About the value of our work…
M.E.E.R. e.V. primarily sees its mission within the areas of science and raising public awareness. The actual number of people we are reaching with our practical work is hard to estimate – but ever since numerous people and organisations have been sensitized concerning elementary environmental matters, and been encouraged to help and show commitment through M.E.E.R.'s work, it's more than obvious that we are heading in the right direction.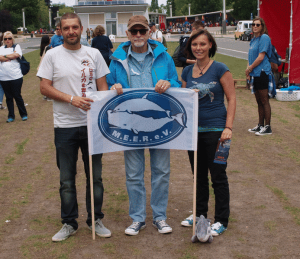 The successes, campaigns, activities, and publications shown here are mainly based on voluntary work done by our active members. We are particularly thankful for the close cooperation with the Whale Watching operators on La Gomera, which began in the 1990s (until 2007 Club de Mar, since 2008 OCEANO La Gomera).
The goodwill is inestimable, not to mention the material gain derived from these cooperations: If you regarded the hours spent at sea for data-collection as paid hours, you would be looking at a minimum of 1.000 000 Euros.
The relation between our budget and the effects we achieve (scientifically, and in terms of education, activities, and campaigns) is enormous – showing that M.E.E.R. e.V. can and and will continue to work in a highly efficient manner.
The project MEER La Gomera is internationally regarded as a "best practice" example for sustainable whale watching tourism. Thanks to the network with national and international organisations, we have a very extensive outreach, according to the slogan "act local, think global".
In addition, we possess expertise concerning certain topics (i.e. ship strikes or sighting database from "platforms of opportunity") that no other European organisation can provide.
Milestones of our activities:
Year 2017
Opening of the first permanent station for land-based observation of dolphins and whales on the Canary Islands. This opens for new aspects in research and will significantly improve the sustainable management of whale watching tourism ! More…
5th workshop in series on "Communicating marine mammal science to the general public" at the ECS conference, this year focusing on marketing and fundraising. More and more…
Environmental Education: M.E.E.R. e.V. lectures on whales and dolphins at school as well as on ship-whale collisions in a sailing club.
Year 2016
Basic works for the first permanent station for land-based observation of dolphins and whales on the Canary Islands: Funding is safe, the construction of the shelter begins! More and more…
In cooperation with the local school M.E.E.R. e.V. runs a whale watching tour for school kids. We aim to inspire the young people for the protection of the great variety of cetaceans off their home coasts. More…
Workshop, poster and talks – M.E.E.R. e.V. was represented in multiple ways at the ECS conference: a full-day workshop "4th workshop on communicating marine mammal science to the general public", talks on ship-whale collisions as well as two poster contributions! More…
 Year 2015
At the ECS conference M.E.E.R. e.V. offers the 3rd workshop in a series on "Communicating the science of marine mammals to the general public and the public", open for all those interested in marine conservation and environmental education. More…
M.E.E.R.  e.V. presents new research results on skin anomalies in cetaceans off La Gomera at the scientific committee of the IWC (International Whaling Commission).
M.E.E.R. e.V. and IWC provide a joint presentation on "ship strike" (collision of ships with whales) at several conferences.
Special days for school kids on La Gomera: M.E.E.R. e.V. introduces 200 primary and preschool children to the life of the whales and dolphins off La Gomera and explores the local tidal ponds with them. More…
Year 2014
M.E.E.R. e.V. and WDC uncover sale of illegal whale meat at the "Grüne Woche" in Berlin.
M.E.E.R. e.V. hosts a workshop on the ECS conference: "Communicating marine mammal science to the general public". More and more...
M.E.E.R. e.V. supports the bachelor thesis "Whale Watching Tourism in the Canary Islands: the role of sustainable tourism in the development of a new niche market" (Fachhochschule Stralsund).
New study from the University of La Laguna in Tenerife, in co-operation with M.E.E.R. e.V., documents the habitat use of the Bottlenose Dolphins in the Canary Islands using photo identification. More…
M.E.E.R. e.V. protests for the Europe-wide closure of Dolphinaria alongside Ric O'Barry in Brussels. Europe: Close Dolphinaria! More…
M.E.E.R. e.V. intensifies its contact to the local school and organizes a Whale Watching excursion for teachers in La Gomera to bring into focus the topic of whales and dolphins – and their endangerment – for the locally most important target group. More…
Year 2013
M.E.E.R. e.V. presents the results of its most recent investigation on the underwater noise caused by ferries at the conference of the ECS (European Cetacean Society) in Setubal/Portugal.
Extension of the permanent exhibition in La Gomera (original rib and vertebrae of a sperm whale as well as 2 lifesize bottlenose dolphin models, plankton network & binoculars.
Official partnership with the Swiss ocean conservation group OceanCare and the campaign "Silent Oceans". New info banner on the topic of plastic waste in the sea.
Project for school kids in the permanent exhibition of MEER: A presentation you can listen to, touch, and be amazed at for 6 to 8 year-olds from the Borbarlan/Valle Gran Rey School.
New research work on Visualization and Analysis of Sighting Data based on a modern Geographic Information System (GIS). The work emerged through co-operation with the Hochschule für Technik und Wirtschaft (HTW) Berlin.
Year 2012
Scientific report in favor of the establishment of Marine Protected Area (MPA) off La Gomera summarizes most important results of more than 15 years of research. More…
Project on "Underwater Sound of Ferries" is the first of its kind to record different ferries' sounds with professional equipment. More…
MEER presents a scientific poster about land based observation at the annual meeting of the ECS conference (European Cetacean Society) in Galway (Ireland). More…
Fabian Ritter attends IWC conference in Panama as consultant of the Belgian government.
MEER supports the educational project "OCEANO – educación ambiental" for schoolkids at La Gomera.
Year 2011
M.E.E.R. e.V. and other organisations hand over 60 000 signatures to fight the construction of new dolphinariums in Europe.
M.E.E.R. e.V. becomes increasingly involved in the topic of "European fisheries policy".
Our own Youtube channel provides moving insights into the work of M.E.E.R. e.V. More…
M.E.E.R. e.V. is part of the 63. IWC-conference in Jersey (GB, more…) and the annual meeting of the European Cetacean Society in Cadiz.
Year 2010
M.E.E.R. e.V. starts the first study on the Canary Islands focusing on observations of conspicuous dolphins (animals with injuries, deformations, skin anomalies, or emaciated animals).
Scientific report: M.E.E.R. e.V. provides specific recommendations to the Spanish government for the development of the NATURA 2000 conservation areas on the Canary Islands.
M.E.E.R. e.V. is the first association to develop a detailed description of problems of ship-whale collisions ("ship strikes") in various languages. More…
Two new entries are added to the abundance list of cetaceans off La Gomera: The Minke Whale and the Gervais´s Beaked Whale. In total the list now counts 23 species. More…
M.E.E.R. is invited to participate in the international IWC-workshop on "Reducing Risk of Collisions between Vessels and Cetaceans" .
Year 2009
Research: Study "Ship Strikes of Sailing Vessels with Cetaceans Worldwide"gives information about collisions with whales from the perspective of sailors and provides instructions for the risk-reduction, and is the first of its kind. More…
Encounter with Orcas in August shows once more how important the data-recording of all our sightings around Gomera is.
Fabian Ritter presents study about sailing vessel-whale collisions at the IWC-conference on Madeira.
M.E.E.R. e.V. becomes part of the European Alliance Against Dolphinariums.