Typical Itenary of a Practical Course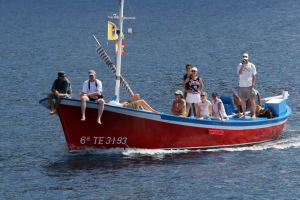 Day 1 Fly to Tenerife, arrival on La Gomera
Day 2 Welcome, introduction and presentation of the schedule
Day 3 Whale watching research trip (4h)
Day 4 whale watching research trip (4h)
Day 5 Working meeting 1
Day 6 Whale watching research trip (4h)
Day 7 Working meeting 2
Day 8 Leisure time
Day 9 Whale watching research trip (4h)
Day 10 Whale watching research trip (4h)
Day 11 Working meeting 3
Day 12 Whale watching research trip (4h), Working Meeting 4
Day 13 Whale watching research day trip (8h)
Day 14 Meeting: summary, feedback
Day 15 Flight home
The working meetings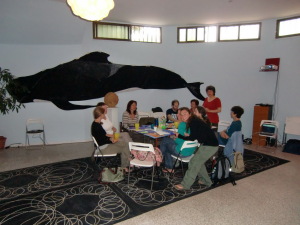 Working Meeting 1:
"Cetaceans off La Gomera – an Introduction" (Power Point presentation).
Behavioural research: sampling methods, behavioural states vs. behavioural events, ethograms, studying human-cetacean interactions, literature
Working Meeting 2:
"Whale Watching – Chances & Challenges" (Power Point presentation)
Research project M.E.E.R. La Gomera: boat-related behaviours, sighting categorisation, data bank structure, data handling, literature
Working Meeting 3:
Practical work: entering sighting data into the data base, working with sea charts, interpreting observations, etc. (varies)
Working Meeting 4:
Further work on the data, summarising discussion and interpretation of own observations, comparison with other studies, etc.
The accomodation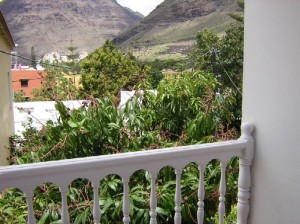 You will be accomodated in tourist class apartments(2-bed-rooms). Usually – depending on availability – we rent those apartments which are represented here
"Apartamentos Yasmina" are situated in La Palomera, between Borbalán und Vueltas, quiet and with a view on the gardens and the surroundings. Two Apartments withtwo bedrooms each are located on the first floor. All apartments are equipped with a dining area, two bedrooms, a kitchen and a bathroom. A small balconyoffers a good view. The large roof-deck, equipped with chairs and a table, can be used at every time. From here, you have a fantastic surrounding view.
A separated single/double apartment may be available at a special rate.
Apartamentos Yasmina