Merits of whale watching tourism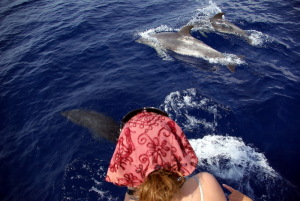 Whale watching offers a number of opportunities how to contribute to the improved protection of whales and dolphins. However, to do so a necessary prerequisite is the compliance with the principles of sustainability, i.e. the 'use' of marine mammals does not affect the ecological equilibrium in the long term.
The chances & merits of whale watching tourism are:
Important source of income for coastal villages, cities, regions and nations
Valuable contribution to increasing environmental awareness (sensitization)
Source of knowledge, input for scientific research and for conservation efforts
Direct experience can 'touch hearts' and possibly results into change of (human) behavior
Alternative to dolphinaria: whales and dolphins in their natural environment, 'is what they truly are'
Improvement of reputation of a place, region (nation)
Possible therapeutic effect?
Sources:
O'Connor, S., Campbell, R., Cortez, H., & Knowles, T., 2009, Whale Watching Worldwide: tourism
numbers, expenditures and expanding economic benefits, a special report from the International Fund for Animal Welfare, Yarmouth MA, USA, prepared by Economists at Large.