3rd workshop at ECS conference 2015
M.E.E.R. e.V. proudly presents its 3rd workshop at the annual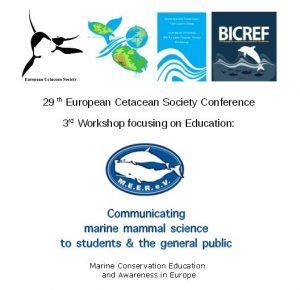 ECS Conference 2015 (European Cetacean Society, 23 – 25 March, Malta): "Communicating marine mammal science to students & the general public". The workshop is organised by Volker Smit (M.E.E.R. e.V.) and takes place at InterContinental (St. Julians, Malta) on 21st March 2015.
The workshop allows scientists and experienced educators to share their acquired skills toward improving educational programs in support of school curricula and pedagogical outreach materials, such as books, videos, kits, activities and exhibitions. From the last workshop in 2014 it was found that many educators gained further knowledge on how better to present complex marine science topics in more attractive and feasible ways in schools. This workshop will give teachers and educators the opportunity to share their experiences and queries with the invited speakers working in marine and conservation science research and teaching. It is therefore especially relevant to educators and teachers but is also open to researchers, students and persons working in the media and in public awareness.
Contents and aims of the workshop as well as talks of invited speakers inclusive abstracts (pdf).
Registration and more information
Interested people are invited to register and contact Volker Smit via cetaceos@gmx.de
More information on the workshop program at ECS-website: http://www.europeancetaceansociety.eu/conference/workshops-programme