End captivity for dolphins in Europe!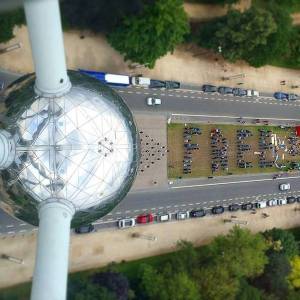 28th of June was a very particular day for the dolphin defenders of Europe. For the 2nd year, a small group of enthusiasts organised – with the help of Animal Rights organization Bite Back – a European demo against dolphinaria. Special guest was Ric O'Barry, the ex-trainer of Flipper, but since 40 year on a constant quest to put an end to all kinds of dolphin suffering and captivity of cetaceans. 400+ activists from all over Europe joined Ric at the foot of the Atomium in Brussels to demand a dolphinaria-free Europe. The atmosphere throughout the day was very special and heart warming: hundreds of like minded people coming together in the cause of dolphins. M.E.E.R. e.V. was on hand during this wonderful event as well and was represented by active members Lisa and Vince.
"Free the Dolphins!"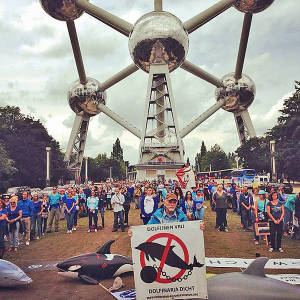 On the program of the demo was a one hour long silent wake during which 2 formations made a huge and very powerful statement against dolphin captivity. One formation formed the word FREE and the other one was specifically aimed towards Boudewijn Sea Park, the last dolphinarium of Belgium where 8 dolphins are suffering a boring life in a small indoor tank. After this impressive scene, we were offered motivating speeches by Ric O'Barry and other advocates against dolphin captivity. Bottom line of these addresses was really simple but incredibly powerful: "Tell everybody to not buy a ticket!"
Subsequently the crowd was fired up so the time was right for a loud protest. Slogans were screamed and were responded by everybody with "Free the dolphins!" for 45 minutes while walking around the ever busy spectacular structure of the Atomium, one of the main touristic magnets of Belgium.
A very forceful protest indeed, proven by hundreds of photos and articles tearing through the social media and more importantly in several news papers and reports on television and radio.
International Exchange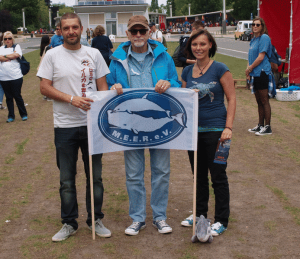 In the evening there was a dinner in a vegetarian restaurant in Brussels for Ric, the organizers of the demo, some special guests and protesters who had travelled long distances to join the action. In so doing the day was terminated in a very sociable and cozy setting for all 40 invitees coming from all over the world (Belgium, U.S.A., Brazil, Holland, Japan, Germany, France, Italy, Spain, UK, Ireland, Switzerland, Slovenia, Czech Republic and Russia). Since both active members of M.E.E.R. eV were present as well, it was an excellent opportunity for networking and getting acquainted with other organizations.
M.E.E.R. eV would like to thank and congratulate the organizers of this successful protest demo and has yet planned to again participate next year. Free the dolphins!