M.E.E.R. Practical Course Springtime 2013 – Impressions
La Gomera in April/May 2013.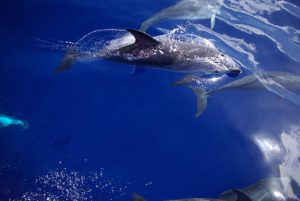 Two incredibly intense weeks are now behind us already. This year's MEER practical course was characterized by numerous great sightings and an incredible team spirit.
On balance we had a great number of sightings because of the really good conditions.
Bottlenose dolphins and Atlantic spotted dolphins were often seen and they demonstrated both playful and curious, as well as wild and rowdy behaviour. Also, some encounters with Pilot whales were recorded. Common dolphins, usually seen regularly during April could not be sighted during this year's practical course. At least we encountered Striped dolphins for a short moment.
Especially, the Atlantic spotted dolphins seen during sunrise will stay in good memory – it was such an beautiful and peaceful experience… unbelievable! We'll also keep remembering the very intensive encounter with the "ancient" but at the same time elegant looking Rough-toothed dolphins.
Moreover we had the great fortune to observe three species at the same spot and same time, namely Bottlenose dolphins, Pilot whales and Atlantic spotted dolphins. That caused only a short confusion among the inexperienced interns … but quickly turned into pure enthusiasm!
Besides all the beautiful and easy moments on board, there were also some thought-provoking sightings. We met some really skinny dolphins, numerous dolphins with old injuries on their fins and plenty of garbage, that just seems too interesting for the curious animals – a really dangerous game!
Finally, we were able to save the life of a turtle on our last boat trip, as we took it on board and freed it from a plastic bag deeply cut into its front flipper. Unfortunately, her injuries were so bad that we could not just release her. Now she is recovering in the sanctuary in Tenerife, will be reintroduced to the wild as soon as possible and hopefully has many healthy years to go.
Remembering all these incredibly intensive impressions pushes us forward to engage ourselves for the sea and its inhabitants.
Text: Elisabeth Apel-Isbarn, course participant and new active member of M.E.E.R. e.V.
Photographic Memories M.E.E.R.-Practical Course 2013
[Best_Wordpress_Gallery id="7″ gal_title="Frühjahrskurs 2013″]