Report: Workshop at the ECS 2017
Middelfart/Berlin, April 2017.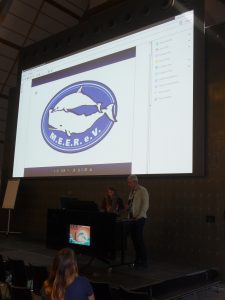 The 5. Workshop on the topic "Communicating Marine Mammal Science to the General Public", organized by the 2. chairman of MEER Volker Smit, was again a great success. This year the focus was on "Marketing" and Silke Carstens – experienced Consultant from the market sector – presented the topic "Marketing" to the community of scientists together with Volker Smit. In the future this topic should be a permanent part of the workshop, which is to be continued next year. Overall the tenor from the workshop as well as from the ECS conference, which took place right afterwards, is to increase the awareness of the subject "Communication & Science" within the science community. This also arises from the fact, that the topic "Education and Communication" was part of many symposia during the conference. We really do appreciate this!
5th workshop resume (PDF Download)
Impressions from the workshop and from the conference:
Click on a picture…