The new film: The Sea off La Gomera
Berlin, February 2018.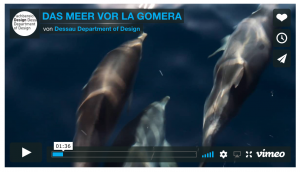 M.E.E.R. celebrates its 20th anniversary this year! On this occasion we are very pleased to present the new film: "Das Meer vor La Gomera" (The Sea off La Gomera). As part of a student project, the cooperation with the University of Dessau (Department of Design) has resulted in a beautiful and informative image film that reflects the work of the NGO M.E.E.R. and its cooperation partner OCEANO Gomera. The film shows with enchanting images the uniqueness of this island and the wonderful encounters with whales and dolphins. The urgency and need for protection of this habitat is evident – coupled with our message that everyone can contribute in their own way.
"Das Meer vor La Gomera" – The sea off La Gomera, content:
The non-profit association M.E.E.R. and the local whale watching operator OCEANO Gomera cooperate and offer respectful and sustainable whale watching off La Gomera (Canary Islands). Through a respectful approach and the integration of research and public education, the whale watching trips also serve science and raise environmental awareness. The cooperation is beneficial for all stakeholders: M.E.E.R. is being offered a permanent platform for its research, OCEANO Gomera offers high quality whale watching trips, and tourists as well as locals are able to inform themselves about the marine mammals and their habitat. Not the least, the animals themselves also benefit from the cooperative efforts to protect the sea. Thus, this partnership is an outstanding example for the long-term development of whale watching tourism as a sustainable use of cetaceans. The project which is widely recognized as a best practice example, has been awarded an international Tourism & Environment award.
Click here for the presentation of the film (in German) on facebook!
Click here for the movie (in German) on the youtube channel of M.E.E.R.!